Almost all solar panels include integrated bypass diodes. Crystalline panels generally have three of them, which are located in the junction box and can each bypass a third of the panel when necessary. The diodes' main task is to protect the solar cells from overheating when partial shading occurs. When combined with the right inverter, they can also help minimize yield losses on partially shaded roofs, as I've already mentioned a few times on this blog (may be not translated yet…). In this post, I'll describe how to check whether all of a solar power generator's bypass diodes are still in working order, which diode faults could occur, and how to correctly detect them. The first part of the post is about missing diodes; in the second part, I'll discuss short-circuited bypass diodes. This post is intended for specialists and might not be suitable – or interesting – for anyone who doesn't particularly care for technology stories.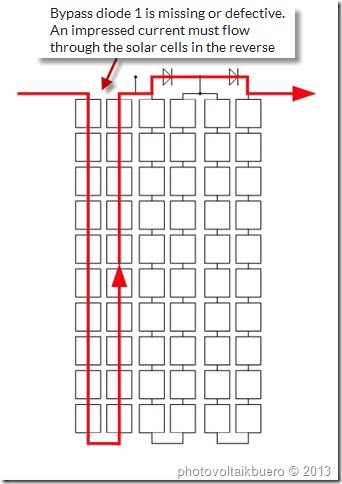 It's not unheard of for a bypass diode in a solar power generator to be defective. Since bypass diodes only jump into action when a panel is shaded, defective ones tend to go undiscovered for a while. As I mentioned earlier, there are two types of problems that can befall a bypass diode, and they each present in different ways. In the first case, the bypass diode doesn't conduct any electricity at all in either direction. This can occur if a diode was never installed, if the diode isn't properly connected, or a strong current damaged the diode. In this case, the system operator wouldn't notice anything at first. Only when the affected panel is shaded will the entire string's current drop to that of the shaded cell; alternatively, the cell will even start consuming electricity if the inverter can reduce the voltage enough. If the bypass diode were working properly, it would only have to take on the voltage from the unshaded cells in its part of the string; as the negative voltage increased at the shaded cell, the bypass diode would become conductive. When the bypass diode is defective, however, it's unable to intervene, and the cell receives more and more negative voltage until it eventually reaches a breaking point. When I say "breaking point" here, I'm not talking only about a mechanical malfunction, but also about the point on a diode's curve when it also becomes conductive in the reverse direction. For some diodes (Zener diodes), this effect is used to achieve stable voltages in electronics circuits. For many others, though, the effect leads to damage because of the high power loss. Solar cells can withstand this breaking point for a short period of time, but they become so warm that damage can't be ruled out over longer periods of time. The negative voltage that takes a solar cell to its breaking point is about 14 volts. Since 23 unshaded cells supply about 0.55 V * 23 = 12.77 V, more than 24 crystalline cells are never combined in a partial cell string. This way, a partially shaded cell can force the open-circuit voltage to the unshaded cells, thereby preventing too great of a current from flowing. If the bypass diode is working, that is…
To detect a defective bypass diode, you'll need to send current through the solar power generator in the usual direction, preferably at night. Connect a power supply unit that will try to send electricity through the solar cells. Since the cells can't supply power at night, the bypass diodes – if they're working properly – will become active and guide the current past the solar cells. If a bypass diode is defective, no current will flow for the time being. Before conducting the test, you should know how many solar panels were connected in series in the string in question and how many bypass diodes each panel has. Multiply that number by 0.4 volts to find the amount of voltage that should cause the bypass diodes to become conductive. Above this voltage, the current should increase exponentially. If you conduct the test with our pvServe, set the current limit at about 50 percent of the nominal current for the panel being investigated.
For five-inch cells, for example, that level is about 2.5 amperes. Then, continue to increase the voltage until that current is reached. If you're inspecting a string with 15 panels and each panel has three bypass diodes, then the diodes' forward voltage is about 0.4 V * 15 * 3 = 18 V. The current should be reached when the voltage is slightly higher than that number. If no current is flowing, the cause is most likely a defective bypass diode.
The next step is to find out which panel has the defective diode. For this, you'll need much higher voltages – and a lot of careful attention. If only one diode is defective, then in the above example only 17.6 volts (instead of 18 volts) will be needed for the undamaged diodes. The current will have to flow backwards through the solar cells at the damaged diode. For 24 cells, the "breaking point" voltage is about 336 volts, which means that about 400 volts is needed for a current of 2.5 amperes. This current will heat up the affected cells relatively quickly, and the warmth will be visible with a thermographic camera. Since operating at their breaking point is very wearing on cells, make sure the test doesn't take too much time. The difference in temperatures compared to the unheated panels is sufficient to quickly find the affected panel. If multiple diodes are defective in a string, things get a little more complicated, since the voltage always increases by about 340 volts (in the example above). pvServe can be used to detect up to three diodes in panel strings that aren't too long (maximum voltage: 1,000 volts). If even more diodes are defective, your only option is to split up the string into multiple partial strings and inspect them separately.